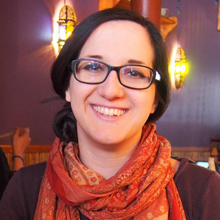 Liz Popolo
Artist & Animator
Liz was born in the Boston area with a pencil in her hand, and she's been drawing ever since. She's a lover of nature and an avid hiker and crossword puzzle solver.

Her schooling brought her to Cornell University, where she earned a degree in Ergonomics. There, she also first began her studies in the field of animation, under the instruction of industry veterans and Oscar-winners.

She continued her studies later through Animation Mentor, and worked for a period of time in the video games indstry, at WB Turbine. She is now thrilled to be putting her skills to use in Connecticut, where she primarily works on LEGO animated shorts.

Much of her time outside of work is spent honing her figure drawing skills. She is becoming more involved with local art leagues, and is available for demos and critiques.